About the Journal
Aims and Scope
The aim of the Jurnal Sylva Lestari (JSL) is to investigate all dimensions of forest management, including but not limited to planning, conservation, sylviculture, socioeconomics, and the utilization of forest resources, with a focus in particular on the tropical forests of Indonesia. We are also eager to include contributions from other geographical scopes as long as they can convincingly demonstrate a critical significance to the concerns that are plaguing Indonesia's forested landscape.
Peer Review Process
Once a manuscript passes the initial checks, it will be assigned to at least two independent experts for peer-review. A double-blind review is applied, where authors' and reviewers' identities are unknown to each other. Peer review comments are confidential and will only be disclosed with the express agreement of the reviewer. The research article submitted to this journal will be peer-reviewed at least 2 (two) or more expert reviewers. The reviewers give scientific valuable comments improving the contents of the manuscript.
In the case of regular submissions, managing editor will invite experts, including experts recommended by the academic editor. These experts may also include editorial board members and guest editors of the journal. Potential reviewers suggested by the authors may also be considered. Reviewers should not have published with any of the co-authors during the past five years and should not currently work or collaborate with any of the institutions of the co-authors of the submitted manuscript.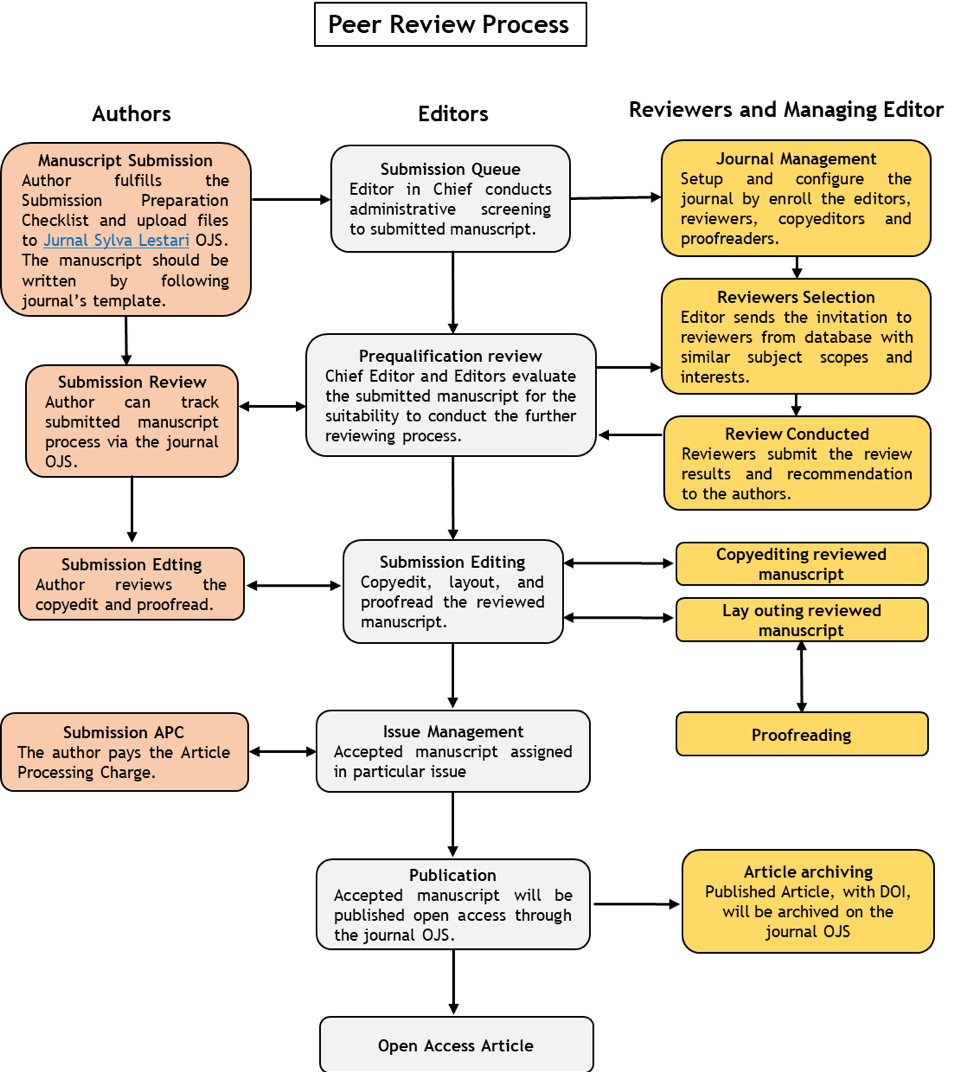 Open Access Policy
Jurnal Sylva Lestari provides immediate open access to its content on the principle that making research freely available to the public supports a greater global exchange of knowledge.
Author Fee
Since Jurnal Sylva Lestari is a fully Open Access journal, we do ask an Article-Processing Charge (APC) of USD 125 from authors that have support from a research grant that is stated in the paper's acknowledgments. Articles by graduate students and others based on need will be evaluated on a case by case basis for a waiver of the publication fee. This APC fee also helps us to support our capacity building programs. Authors should submit a waiver or discount request during the submission of their article.
Authors will not be required to make any payment when submitting their manuscripts to the Journal. The APC fee will be collected after the full review process is completed and the editors have accepted the manuscript for publication.
Payment should be made to Jurnal Sylva Lestari to the following account:
Bank Name: BANK NEGARA INDONESIA (BNI)
Account Name: JURNAL SYLVA LESTARI
Account Number: 1174626850
Swift Code: BNINIDJA
Since our account in IDR or Indonesian Rupiah currency, the transfer process should be converted to Indonesian Rupiah currency.
Revenue Source
Jurnal Sylva Lestari is an open-access journal, which is published in both the online and print versions. Source of income from institutional support (University) and Article Processing Charge (APC). The APC is based on adjusted scale, providing reduced rates to cover students and researchers on the publication charges.
Jurnal Sylva Lestari covers the costs of journal production, online publication, editing and web hosting, and assignment of digital object identifiers (DOI) for each individual article.
Publication Ethics
Our ethic statements are based on COPE's Best Practice Guidelines for Journal Editors.

Publication decisions
The editor is responsible for deciding which of the articles submitted to the journal should be published.
The editor may be guided by the policies of the journal's editorial board and constrained by such legal requirements as shall then be in force regarding libel, copyright infringement and plagiarism. The editor may confer with other editors or reviewers in making this decision.

Fair play
An editor at any time evaluate manuscripts for their intellectual content without regard to race, gender, sexual orientation, religious belief, ethnic origin, citizenship, or political philosophy of the authors.

Confidentiality
The editor and any editorial staff must not disclose any information about a submitted manuscript to anyone other than the corresponding author, reviewers, potential reviewers, other editorial advisers, and the publisher, as appropriate.

Disclosure and conflicts of interest
Unpublished materials disclosed in a submitted manuscript must not be used in an editor's own research without the express written consent of the author.
Allegation of Reseach misconduct
Plagiarism, data fabrication and image manipulation are not tolerated.
Plagiarism is not acceptable in JSL
Plagiarism includes copying text, ideas, images, or data from another source, even from your own publications, without giving any credit to the original source.
Reuse of text that is copied from another source must be between quotes and the original source must be cited. If a study's design or the manuscript's structure or language has been inspired by previous works, these works must be explicitly cited.
All JSL submissions are checked for plagiarism using the industry standard software iThenticate. If plagiarism is detected during the peer review process, the manuscript may be rejected. If plagiarism is detected after publication, an investigation will take place and action taken in accordance with our policies.
Image files must not be manipulated or adjusted in any way that could lead to misinterpretation of the information provided by the original image.
Irregular manipulation includes: 1) introduction, enhancement, moving, or removing features from the original image; 2) grouping of images that should obviously be presented separately (e.g., from different parts of the same gel, or from different gels); or 3) modifying the contrast, brightness or color balance to obscure, eliminate or enhance some information.
If irregular image manipulation is identified and confirmed during the peer review process, we may reject the manuscript. If irregular image manipulation is identified and confirmed after publication, we may correct or retract the paper.
Our in-house editors will investigate any allegations of publication misconduct and may contact the authors' institutions or funders if necessary. If evidence of misconduct is found, appropriate action will be taken to correct or retract the publication. Authors are expected to comply with the best ethical publication practices when publishing with JSL.
Withdrawal/correction/retraction policy
Jurnal Sylva Lestari (JSL) has the policy regarding corrections and retractions. We differentiate between Addendum, Erratum, Corrections, Retractions (or Partial Retractions), and Comments.
Addendum
If crucial results (e.g., additional affiliation, clarify some aspect of methods/analysis, etc) were unintentionally omitted from the original publication, the original article can be amended through an Addendum reporting these previously omitted results. The Addendum will be published, with article numbers added, in the current issue of the journal. A hyperlink to the Addendum will also be added to the original publication, but the original paper does not need to be updated.
Erratum
Errata should be published for scientifically relevant formatting changes, or changes to authorship if the author or contributor list is incorrect when a deserving author has been omitted or somebody who does not meet authorship criteria has been included. Scientifically relevant formatting issues that require an Erratum might include missing or unclear figures, or errors introduced during proofreading (e.g., missing text). Minor errors that do not affect readability or meaning (e.g., spelling or grammatical errors) do not qualify for an Erratum. All authors should proofread the final version carefully.
Author Name Change Policy: Some authors might wish to change their name following publication. In such cases, JSL will update and republish the article and re-deliver the updated metadata to the appropriate indexing services (please note that all updates are dependent upon the policies of the databases). Our teams are aware that name changes can be sensitive and/or private in nature, for a variety of reasons that may include alignment with gender identity, marriage, divorce, or religious conversion. Therefore, to protect author identity, an Erratum will not be published and co-authors will not be notified. Authors should contact the journal's Editorial Office with their name change request.
Corrections
Corrections should be submitted for any scientifically relevant errors in published articles.
Any changes may be evaluated by the academic editors. Any changes after publication that affect the scientific interpretation (e.g., changes to a misleading portion of an otherwise reliable publication, an error in a figure, error in data that does not affect conclusions, or addition of missing details about a method) are announced using a Correction. This is a separate publication that links to the original paper, which is updated. A note will also be added to the Article Versions Notes and to the abstract page, which tells the readers that an updated version was uploaded.
Retractions
Sometimes an article needs to be completely removed from the body of research literature. This could be due to inadvertent errors made during the research process, gross ethical breaches, fabrication of data, large amounts of plagiarism, or other reasons. Such articles threaten the integrity of scientific records and need to be retracted. JSL follows the recommendations of the Committee on Publication Ethics (COPE) for retraction. Potential Retractions are thoroughly investigated by the Editorial Office with the support of the Editorial Board and final approval by the Editor-in-Chief. Other persons and institutions will be consulted as necessary, including university authorities, or experts in the field. If a Retraction is published, the original publication is amended with a "RETRACTED" watermark, but will still be available on the journal's website for future reference. However, retracted articles should not be cited and used for further research, as they cannot be relied upon. Retractions are published using the same authorship and affiliation as the article being retracted, with page numbers added, as a separate item in the current issue of the journal. That way, so that after the issue is released, the Retraction can be marked within the indexing databases. Partial Retractions might be published in cases where results are only partially wrong. A paper will only be completely removed in very exceptional circumstances, where leaving it online would constitute an illegal act or be likely to lead to significant harm.
Expression of Concern
For complex, inconclusive, or prolonged situations, an Expression of Concern may be published. If investigations into alleged or suspected research misconduct have not yet been completed or prove to be inconclusive, an editor or journal may wish to publish an Expression of Concern, detailing the points of concern and what actions, if any, are in progress. Very rarely used.
Comments and Replies
Comments are short letters to the editors from readers questioning either the results reported or the experimental methods used in a specific article. Usually, a reader will approach the Editorial Office or the Editor-in-Chief of a journal, if he/she finds an article intriguing. In such circumstances, the Editorial Office may invite the reader to write a short and reasoned Comment on the article. After consideration and review by the Editor-in-Chief, the Comment may be published, in which case the Editorial Office will approach the authors of the article in question and invite them to prepare a Reply. If the reader's complaints are substantiated, the authors or the Editorial Office may consequently publish a Correction or retract the paper entirely.
Both comments and replies will be refereed to ensure that
the comment addresses significant aspects of the original paper without becoming essentially a new paper;
the reply responds directly to the comment without becoming evasive; and
the tone of each is appropriate for a scientific journal.
A comment will first be sent to academic editors for an initial check. If it is approved, it will be sent to the author of the original paper, who will be given the opportunity to write a reply. Normally, the editor will provide a deadline for receipt of the reply in order to assure prompt publication of the discussion. If a reply is submitted in a timely way, the editor will have both the comment and reply reviewed. If the original author chooses not to submit a reply, the editor may elect to proceed without a reply.
In most cases, editors will invite previous reviewers to review both the Comment and Reply (if available). After receiving review reports, editors will send the Reply and review reports to the author of the Comment. The author will be given only one chance to revise the Comment.
The revised Comment and review reports will be sent to the authors of the Reply. The authors will also be given only one chance to revise the Reply. Lastly, editors will send the revised Comment/Reply to the academic editor for a final decision.
Duties of Reviewers

Contribution to Editorial Decisions
Peer review assists the editor in making editorial decisions and through the editorial communications with the author may also assist the author in improving the paper.

Promptness
Any selected referee who feels unqualified to review the research reported in a manuscript or knows that its prompt review will be impossible should notify the editor and excuse himself from the review process.

Confidentiality
Any manuscripts received for review must be treated as confidential documents. They must not be shown to or discussed with others except as authorized by the editor.

Standards of Objectivity
Reviews should be conducted objectively. Personal criticism of the author is inappropriate. Referees should express their views clearly with supporting arguments.

Acknowledgement of Sources
Reviewers should identify relevant published work that has not been cited by the authors. Any statement that an observation, derivation, or argument had been previously reported should be accompanied by the relevant citation. A reviewer should also call to the editor's attention any substantial similarity or overlap between the manuscript under consideration and any other published paper of which they have personal knowledge.

Disclosure and Conflict of Interest
Privileged information or ideas obtained through peer review must be kept confidential and not used for personal advantage. Reviewers should not consider manuscripts in which they have conflicts of interest resulting from competitive, collaborative, or other relationships or connections with any of the authors, companies, or institutions connected to the papers.

Duties of Authors

Reporting standards
Authors of reports of original research should present an accurate account of the work performed as well as an objective discussion of its significance. Underlying data should be represented accurately in the paper. A paper should contain sufficient detail and references to permit others to replicate the work. Fraudulent or knowingly inaccurate statements constitute unethical behavior and are unacceptable.

Originality and Plagiarism
The authors should ensure that they have written entirely original works, and if the authors have used the work and/or words of others that this has been appropriately cited or quoted.

Multiple, Redundant or Concurrent Publication
An author should not in general publish manuscripts describing essentially the same research in more than one journal or primary publication. Submitting the same manuscript to more than one journal concurrently constitutes unethical publishing behaviour and is unacceptable.

Acknowledgement of Sources
Proper acknowledgment of the work of others must always be given. Authors should cite publications that have been influential in determining the nature of the reported work.

Authorship of the Paper
Authorship should be limited to those who have made a significant contribution to the conception, design, execution, or interpretation of the reported study. All those who have made significant contributions should be listed as co-authors. Where there are others who have participated in certain substantive aspects of the research project, they should be acknowledged or listed as contributors.
The corresponding author should ensure that all appropriate co-authors and no inappropriate co-authors are included on the paper, and that all co-authors have seen and approved the final version of the paper and have agreed to its submission for publication.

Disclosure and Conflicts of Interest
All authors should disclose in their manuscript any financial or other substantive conflict of interest that might be construed to influence the results or interpretation of their manuscript. All sources of financial support for the project should be disclosed.

Fundamental errors in published works
When an author discovers a significant error or inaccuracy in his/her own published work, it is the author's obligation to promptly notify the journal editor or publisher and cooperate with the editor to retract or correct the paper.
Screening for Plagiarism Policy
Jurnal Sylva Lestari have a policy of screening for plagiarism. We recommend authors to use anti-plagiarism software to check the authenticity article.
Archiving - electronic backup and preservation
Digital preservation can be seen as the set of processes and activities that ensure information which now exists in digital formats is backed up and distributed to guarantee continued access for the long term. The digital content of the journal is extremely valuable and measures are in place to ensure both its current accessibility and long-term preservation. The preservation policy includes the following measures:
 Website archiving
All of our electronic content (website, manuscripts, etc.) is stored on three different sources. Content on one server is online and accessible to the readers. The copy of the same content is kept as a backup on two other sources.
Abstracting/Indexing services
Our journal's Abstracting/Indexing services store many essential information about the articles. Additionally, two of our journal's Abstracting/Indexing services archive not only the metadata about the article, but the electronic versions of the articles, as well. Therefore, copies of the articles are available to the scientific community through their systems as an alternative to the journals own.
Jurnal Sylva Lestari has electronic backup and preservation of access to the content of its journals via PKP Preservation Network (PKP PN).
PKP has developed the PKP Preservation Network (PKP PN) to digitally preserve OJS journals. The LOCKSS program offers decentralized and distributed preservation, seamless perpetual access, and preservation of the authentic original version of the content. The PKP PN ensures that journals that are not part of any other digital preservation service (such as CLOCKSS or Portico) can be preserved for long-term access.
All articles published by Jurnal Sylva Lestari have a Digital Object Identifier (DOI) to provide guarantees to authors regarding long-term archiving. With the DOI, all articles in Jurnal Sylva Lestari will not be affected by changes to the URL currently used. Moreover, this journal utilizes the LOCKSS system to create a distributed archiving system among participating libraries and permits those libraries to create permanent archives of the journal for purposes of preservation and restoration.
Journal History
History of Journal Sylva Lestari
Jurnal Sylva Lestari was established in 2005 with the previous name Jurnal Hutan Tropika and in 2013 it was officially changed name to Jurnal Sylva Lestari (JSL). JSL changed the Cover and Manuscript Formatting Guide in 2013 and obtained new printed-ISSN [P-ISSN 2339-0913]. Online ISSN was obtained in 2017 [E-ISSN 2549-5747]. JSL is published by the Department of Forestry, Faculty of Agriculture, University of Lampung .