Perencanaan Lanskap Ekowisata Hutan Mangrove Di Pantai Sari Ringgung Desa Sidodadi Kecamatan Padang Cermin Kabupaten Pesawaran
Abstract
Ecotourism is a utilization of mangrove forest ecosystems in a sustainable manner through tourism activities that are responsible to environment. The application of the ecotourism concept in the mangrove forest area in Sari Ringgung Beach Sidodadi Village of Padang Cermin Pesawaran is expected to reduce the damage to mangrove ecosystems by increasing public awareness of the mangroves existence. This research objectives are to develop a plan of mangrove forest ecotourism through the exploration landscape potential in the form of biophysical elements and social community. Ecotourism planning activities consist of an potential inventory, analysis, synthesis, scheming concepts, and tread design. Inventory data results are categorized into the potential and constraints are analyzed logically to obtain the synthesis results. Space zoning development plan was produced at the planning stage as the basic design of the space concept, circulation paths, and green governance. Mangrove forest in Sari Ringgung Beach has ecotourism potential including physical and visual condition, plants diversity and mangrove wildlife animals, visitors crowd, and good community support. Ecotourism plan is designed by the spatial distribution of ecotourism into 15 ha as reception area, 2 ha as service area, 68 ha as buffer area, and 12 ha as ecotourism area. Ecotourism access is developed in three path circulation are: paving block path in the dry land route, boardwalk path to cross the wetlands, and ships route to cross the open beach. Coconut and Pine selected as a space filler plants and various types of mangrove as wetlands rehabilitation plants.
Keywords: ecotourism, mangrove, landscape planning
Downloads
Download data is not yet available.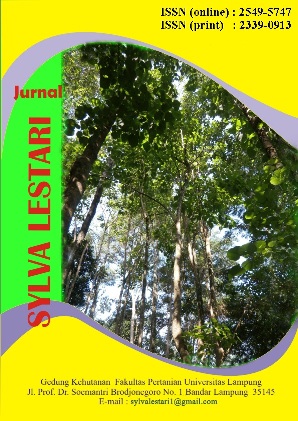 Downloads
How to Cite
Nugraha, B., Banuwa, I. S. ., & Widagdo, S. (2015). Perencanaan Lanskap Ekowisata Hutan Mangrove Di Pantai Sari Ringgung Desa Sidodadi Kecamatan Padang Cermin Kabupaten Pesawaran. Jurnal Sylva Lestari, 3(2), 53–66. https://doi.org/10.23960/jsl2353-66
Statistics
Abstract views: 2247 times
PDF downloaded: 2197 times
License
This work is licensed under a Creative Commons Attribution-NonCommercial 4.0 International License.
Authors retain copyright and grant the journal right of first publication with the work simultaneously licensed under a Creative Commons Attribution-NonCommercial 4.0 Licence that allows others to share the work with an acknowledgement of the work's authorship and initial publication in this journal.
Authors are able to enter into separate, additional contractual arrangements for the non-exclusive distribution of the journal's published version of the work (e.g., post it to an institutional repository or publish it in a book), with an acknowledgement of its initial publication in this journal.
Authors are permitted and encouraged to post their work online (e.g., in institutional repositories or on their website) prior to and during the submission process, as it can lead to productive exchanges, as well as earlier and greater citation of published work (See The Effect of Open Access).