Study on the Growth of Falcataria moluccana at 14-Month-Old and the Productivity of Rice Plant (Oryza sativa) IPB 3S in Agroforestry System
Abstract
Agroforestry is a forestry and agriculture plant utilization system using sustainable land management to gain more products. Falcataria moluccana is a forestry plant that has been cultivated mostly in an agroforestry system by the Indonesian people, particularly on Java Island. Appropriate F. moluccana species selection and planting space in an agroforestry system are expected to improve plant growth and suppress the damage level that occurred in F. moluccana. The agroforestry system with F. moluccana and rice plant (Oryza sativa) is one of the alternative ways to support the national food needs. This study aimed to analyze the growth of various provenances of F. moluccana at the age of 14 months and analyze the productivity of IPB 3S rice in two planting spaces of F. moluccana. This study used a completely randomized two-factorial design, with the first factor being the provenance of F. moluccana, i.e., Solomon F1, Solomon F2, and local Kendal, and the F. moluccana spacing of 1.5 m x 3.0 m and 1.5 m x 1.5 m was the second factor. The F. moluccana growth parameters, rice plant growth parameters, and rice plant productivity in agroforestry systems were analyzed using an analysis of variance (ANOVA). If a significant effect on each parameter at a 5% confidence level occurred, the parameters were further analyzed with Duncan's Multiple Range Test (DMRT). The study found that provenance had no significant effect on the growth of 14-month-old F. moluccana. The results also showed that the growth of 14-month-old Solomon F2 had a relatively higher value on the parameters of height and diameter. The highest productivity of IPB 3S rice was found in the local F. moluccana shade at a spacing of 1.5 m x 1.5 m, reaching 0.201 tons/ha. The highest rice productivity was due to the magnitude of the light intensity received by rice of 5414.30 lux.
Downloads
Download data is not yet available.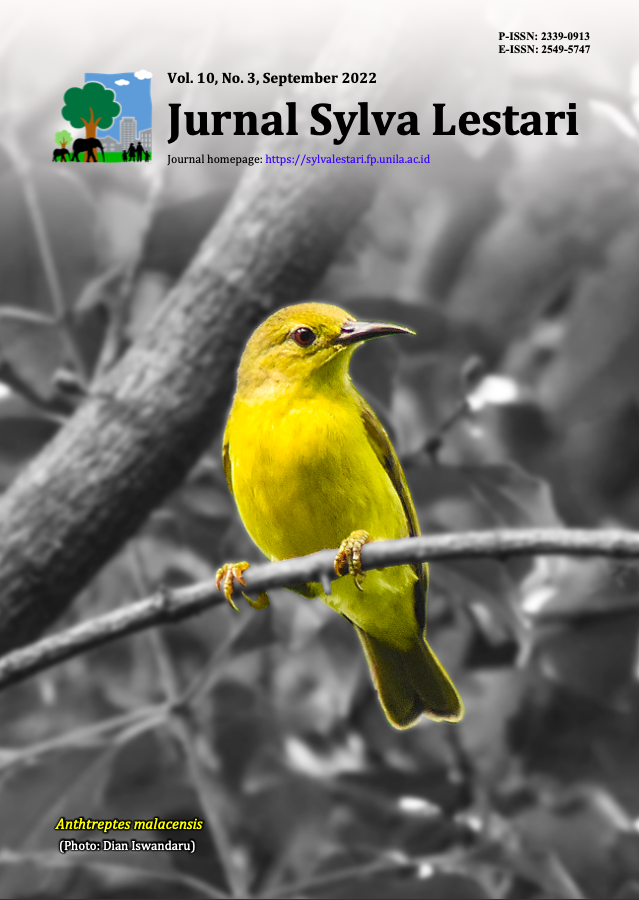 Downloads
How to Cite
Wijayanto, N., & Briliawan, B. D. (2022). Study on the Growth of Falcataria moluccana at 14-Month-Old and the Productivity of Rice Plant (Oryza sativa) IPB 3S in Agroforestry System. Jurnal Sylva Lestari, 10(3), 372–388. https://doi.org/10.23960/jsl.v10i3.573
Statistics
Abstract views: 94 times
PDF downloaded: 74 times
License
Copyright (c) 2022 Nurheni Wijayanto, Bagas Dipa Briliawan
This work is licensed under a Creative Commons Attribution-NonCommercial 4.0 International License.
Authors retain copyright and grant the journal right of first publication with the work simultaneously licensed under a Creative Commons Attribution-NonCommercial 4.0 Licence that allows others to share the work with an acknowledgement of the work's authorship and initial publication in this journal.
Authors are able to enter into separate, additional contractual arrangements for the non-exclusive distribution of the journal's published version of the work (e.g., post it to an institutional repository or publish it in a book), with an acknowledgement of its initial publication in this journal.
Authors are permitted and encouraged to post their work online (e.g., in institutional repositories or on their website) prior to and during the submission process, as it can lead to productive exchanges, as well as earlier and greater citation of published work (See The Effect of Open Access).