Characteristics of Particleboard from Sorghum and Nypa Fruit Skin Fiber Bonded with Citric Acid-Sucrose Adhesive
Abstract
Sorghum (Sorghum bicolor L.) and nypa fruit skin fiber (Nypa fruticans Wurmb.) can be used as raw materials in the manufacture of eco-friendly particleboard (PB) using natural adhesives based on citric acid and sucrose. This study aimed to determine the characteristics of PB from sorghum and nypa fruit skin fiber using citric acid-sucrose adhesive and also to determine the optimum composition of raw materials and adhesives in the manufacture of PB. The PB panel was made by mixing raw materials and adhesives with variations in the composition of nypa fruit skin fiber:sorghum raw materials 100:0, 25:75, 50:50, and 0:100, and variations in the concentration of citrate-sucrose adhesive were 20% and 30%. The target dimensions and density of PB were 25 cm x 25 cm x 0.9 cm and 0.8 g/cm3, respectively. The PB was hot-pressed for 10 min at 200oC with a pressure of 11 MPa. The physical and mechanical properties of PB were determined using the Japanese Industrial Standard (JIS) A 5908:2003 standard. The results showed that the PB has average values of moisture content of 11.94%, density of 0.79 g/cm3, water absorption of 52.96%, thickness swelling of 13.21%, modulus of elasticity of 1029.55 N/mm2, modulus of rupture of 6.46 N/mm2, internal bonding of 0.18 N/mm2, and screw holding power of 43.12 N. Variation of raw materials composition has a significant effect moisture content, water absorption, thickness swelling, modulus of elasticity, and modulus of rupture. Applying 30% adhesive content significantly affected water absorption, thickness swelling, and screw holding power.
Keywords: citric acid-sucrose, nypa fruit skin, particleboard, sorghum
Downloads
Download data is not yet available.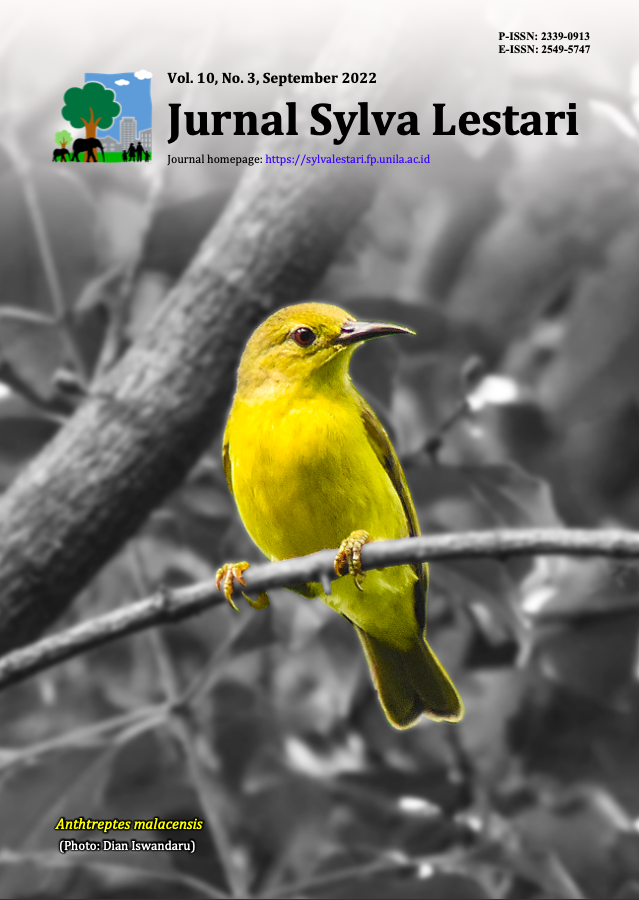 Downloads
How to Cite
Tampubolon, R., Sribudiani, E., Somadona, S. ., Amin, Y., & Kusumah, S. S. . (2022). Characteristics of Particleboard from Sorghum and Nypa Fruit Skin Fiber Bonded with Citric Acid-Sucrose Adhesive. Jurnal Sylva Lestari, 10(3), 426–438. https://doi.org/10.23960/jsl.v10i3.574
Statistics
Abstract views: 192 times
PDF downloaded: 169 times
License
Copyright (c) 2022 Romauli Tampubolon, Evi Sribudiani, Sonia Somadona, Yusup Amin, Sukma Surya Kusumah
This work is licensed under a Creative Commons Attribution-NonCommercial 4.0 International License.
Authors retain copyright and grant the journal right of first publication with the work simultaneously licensed under a Creative Commons Attribution-NonCommercial 4.0 Licence that allows others to share the work with an acknowledgement of the work's authorship and initial publication in this journal.
Authors are able to enter into separate, additional contractual arrangements for the non-exclusive distribution of the journal's published version of the work (e.g., post it to an institutional repository or publish it in a book), with an acknowledgement of its initial publication in this journal.
Authors are permitted and encouraged to post their work online (e.g., in institutional repositories or on their website) prior to and during the submission process, as it can lead to productive exchanges, as well as earlier and greater citation of published work (See The Effect of Open Access).