The Role of Urban Forests as Carbon Sink: A Case Study in the Urban Forest of Banda Aceh, Indonesia
Abstract
Forests have a role as carbon sinks and come under the spotlight when the world is facing the climate change problem. Urban forests have functions as the most effective carbon sinks. Banda Aceh City only has 7.15 ha of urban forest, and the vegetation that grows in the urban forest is essential for carbon emissions reduction. This study aimed to determine the potential tree biomass and carbon sink value in the BNI Urban Forest, Banda Aceh City, Indonesia. This study used vegetation analysis by inventory method with the census sampling method. The diameter of all trees was measured, and tree biomass, carbon stocks, and carbon sequestration were calculated. This study identified 16 tree species in the BNI Urban Forest with a total of 318 individuals, showing Casuarina equisetifolia as the most dominant tree (163 trees). The above-ground biomass, carbon stock, and carbon sequestration by the vegetation in the BNI Urban Forest were 24.66 tons/ha, 11.59 tons/ha, and 42.51 tons/ha, respectively. This study presented the vegetation conditions and the potential of carbon sequestration, which can be used to monitor and evaluate the benefits of the existence of urban forests in Banda Aceh.
Keywords: carbon sequestration, carbon stock, green open space, tree biomass, urban forest
Downloads
Download data is not yet available.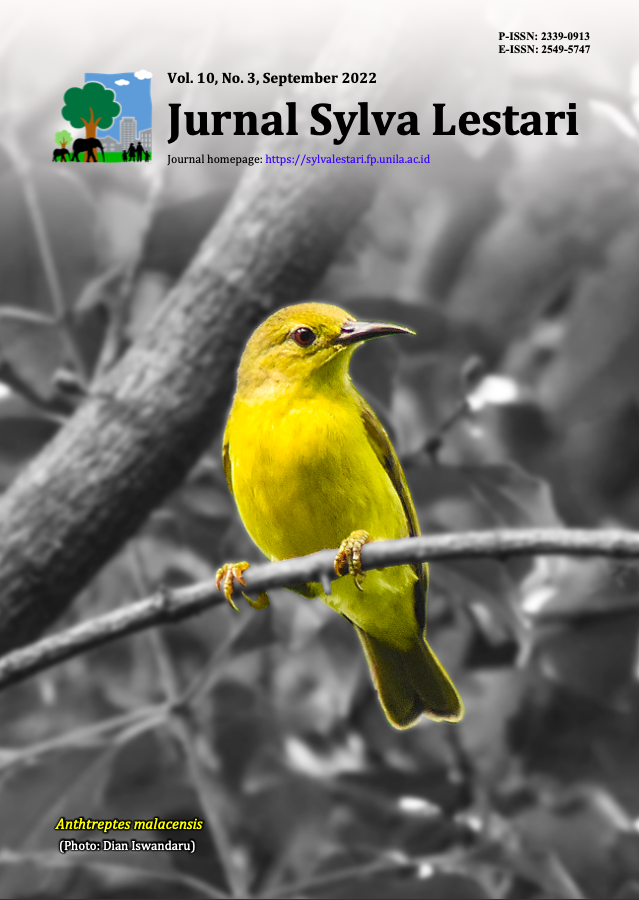 Downloads
How to Cite
Muslih, A. M., Nisa, A. ., Sugianto, Arlita, T., & Subhan. (2022). The Role of Urban Forests as Carbon Sink: A Case Study in the Urban Forest of Banda Aceh, Indonesia. Jurnal Sylva Lestari, 10(3), 417–425. https://doi.org/10.23960/jsl.v10i3.604
Statistics
Abstract views: 157 times
PDF downloaded: 113 times
License
Copyright (c) 2022 Ali Muhammad Muslih, Asyrafun Nisa, Sugianto, Tuti Arlita, Subhan
This work is licensed under a Creative Commons Attribution-NonCommercial 4.0 International License.
Authors retain copyright and grant the journal right of first publication with the work simultaneously licensed under a Creative Commons Attribution-NonCommercial 4.0 Licence that allows others to share the work with an acknowledgement of the work's authorship and initial publication in this journal.
Authors are able to enter into separate, additional contractual arrangements for the non-exclusive distribution of the journal's published version of the work (e.g., post it to an institutional repository or publish it in a book), with an acknowledgement of its initial publication in this journal.
Authors are permitted and encouraged to post their work online (e.g., in institutional repositories or on their website) prior to and during the submission process, as it can lead to productive exchanges, as well as earlier and greater citation of published work (See The Effect of Open Access).