Mining Sludge Utilization as Medium Growth for Revegetation Plants through Seed Germination Test
Abstract
The limited topsoil stock is one of the post-mining reclamation problems that will directly impact the company's business processes. One solution that can be considered to reduce production costs is the utilization of unused materials around the mine. The settling pond sludge contains nutrients and can be used as a growing medium for plants to replace topsoil. This study examined the potential utilization of settling pond sludge through germination and sprout viability tests. This study used a completely randomized design with four composting treatments, namely 0%, 25%, 50%, and 75%. The number of replications was ten times and applied to several species of revegetation plants, namely Acacia mangium, Senna siamea, Falcataria moluccana, and Albizia saman, so there were 160 experimental units in total. The results showed that the settling pond sludge has organic matter reserves and low nitrogen content but is rich in P and element reserves of P and K. The physical texture of settling pond sludge was still suitable as a medium for plant growth. The addition of compost as a mixture of settling pond media had a significant effect on germination and germination viability but had no significant effect on the parameters of the germination rate. The increase in compost composition in the settling pond media mixture positively affected germination and germination survival. Based on this research, it is known that settling pond sludge can be used as a medium for growing revegetation plants. In general, the media with the addition of 50% and 75% compost gave the best germination response and viability.
Keywords: Compost, post-mining reclamation, revegetation, seed germination test, settling pond sludge
Downloads
Download data is not yet available.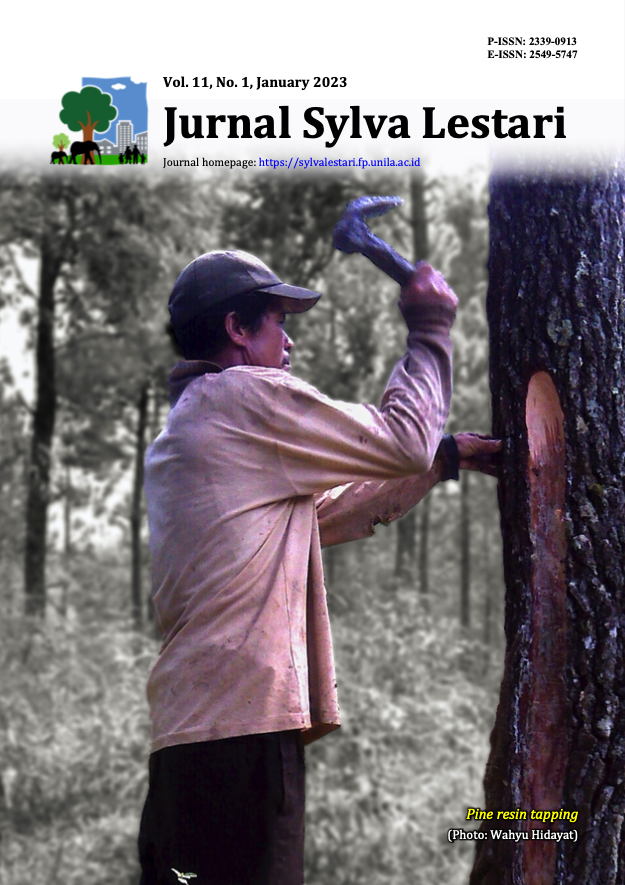 Downloads
How to Cite
Pratama, M. R., Mansur, I., & Rusdiana, O. (2022). Mining Sludge Utilization as Medium Growth for Revegetation Plants through Seed Germination Test . Jurnal Sylva Lestari, 11(1), 22–36. https://doi.org/10.23960/jsl.v11i1.621
Statistics
Abstract views: 103 times
PDF downloaded: 115 times
License
Copyright (c) 2022 Muhamad Ramdhanny Pratama, Irdika Mansur, Omo Rusdiana
This work is licensed under a Creative Commons Attribution-NonCommercial 4.0 International License.
Authors retain copyright and grant the journal right of first publication with the work simultaneously licensed under a Creative Commons Attribution-NonCommercial 4.0 Licence that allows others to share the work with an acknowledgement of the work's authorship and initial publication in this journal.
Authors are able to enter into separate, additional contractual arrangements for the non-exclusive distribution of the journal's published version of the work (e.g., post it to an institutional repository or publish it in a book), with an acknowledgement of its initial publication in this journal.
Authors are permitted and encouraged to post their work online (e.g., in institutional repositories or on their website) prior to and during the submission process, as it can lead to productive exchanges, as well as earlier and greater citation of published work (See The Effect of Open Access).