Physical and Mechanical Properties of Cross-Laminated Timber Made of a Combination of Mangium-Puspa Wood and Polyurethane Adhesive
Abstract
This study aimed to evaluate the physical and mechanical properties of cross-laminated timber (CLT) characteristics from mangium (Acacia mangium) and puspa (Schima wallichii) woods and their combination using polyurethane (PU 1.2) adhesives. The manufacture of CLT began with basic adhesive characterization and thermo-mechanical analysis. Wood material's physical and chemical properties were also tested with its response to the PU 1.2 wettability. The CLT (100 ´ 30 ´ 3.60) cm3 was manufactured with 160 g/m2 glue spread at a pressure of 0.80 MPa for 200 minutes. The CLT panels were characterized refers to the JAS 3079  standard. The results show that PU 1.2 had a gelatination time of 182.1 minutes at 25°C, was able to form urethane groups, and experienced an increase in storage modulus at 35°C. Mangium and puspa woods have different physical and chemical properties, but they interact similarly with PU 1.2 wettability. Puspa CLT panel has a higher density than mangium but lower dimensional stability. The bending mechanical properties of hybrid puspa-mangium-puspa CLT were able to match puspa CLT and have one sample of shear strength that met the JAS 3079 standard in both grain directions. Therefore, hybrid puspa-mangium-puspa CLT has the potential to be developed to improve its dimensional stability and mechanical properties.
Keywords: Acacia mangium, cross-laminated timber, layer combination, polyurethane adhesive, Schima wallichii
Downloads
Download data is not yet available.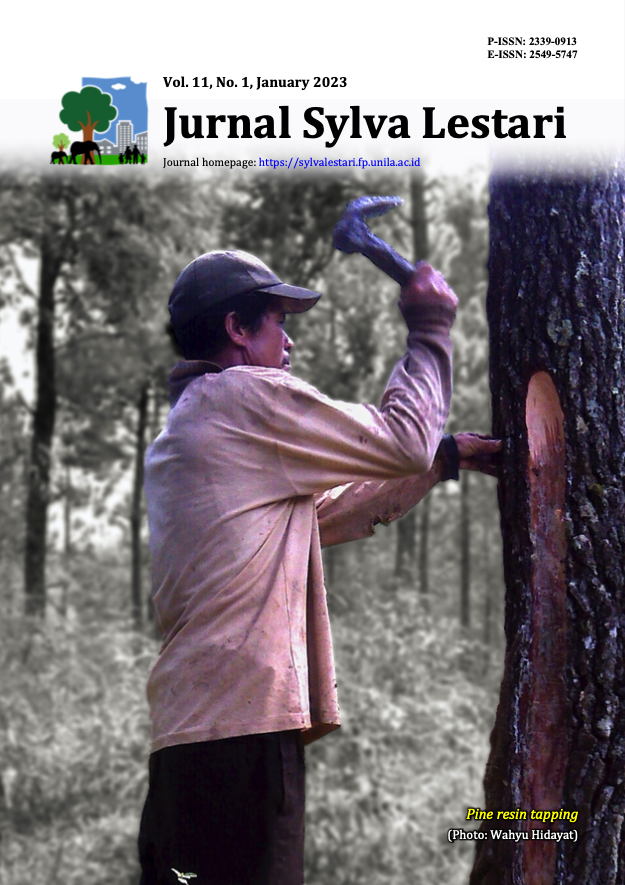 Downloads
How to Cite
Hariz, T. M. R., Hadi, Y. S., Lubis, M. A. R., Maulana, M. I., Sari, R. K., & Hidayat, W. (2023). Physical and Mechanical Properties of Cross-Laminated Timber Made of a Combination of Mangium-Puspa Wood and Polyurethane Adhesive. Jurnal Sylva Lestari, 11(1), 37–65. https://doi.org/10.23960/jsl.v11i1.645
Statistics
Abstract views: 415 times
PDF downloaded: 325 times
License
Copyright (c) 2023 Tengku Muhammad Renzy Hariz, Yusuf Sudo Hadi, Muhammad Adly Rahandi Lubis, Muhammad Iqbal Maulana, Rita Kartika Sari, Wahyu Hidayat
This work is licensed under a Creative Commons Attribution-NonCommercial 4.0 International License.
Authors retain copyright and grant the journal right of first publication with the work simultaneously licensed under a Creative Commons Attribution-NonCommercial 4.0 Licence that allows others to share the work with an acknowledgement of the work's authorship and initial publication in this journal.
Authors are able to enter into separate, additional contractual arrangements for the non-exclusive distribution of the journal's published version of the work (e.g., post it to an institutional repository or publish it in a book), with an acknowledgement of its initial publication in this journal.
Authors are permitted and encouraged to post their work online (e.g., in institutional repositories or on their website) prior to and during the submission process, as it can lead to productive exchanges, as well as earlier and greater citation of published work (See The Effect of Open Access).