Does Motor Manual Pine Oleoresin Tapping Bring Work-Related Musculoskeletal Disorders Risk to the Tappers? (RoM, REBA, RULA, and OWAS Based Postural Analysis)
Abstract
Rosin and turpentine oil are commercially developed non-timber forest products generated from pine oleoresin. In Indonesia, the Quarre method is utilized to tap manually or motor-manually (using handheld tapping machines). Handheld tapping machines can greatly boost productivity on the work, but they may also pose serious risks to workers' health. This study aimed to examine the work-related musculoskeletal disorders (WMSDs) risk of motor-manual tapping by using four postural analysis instruments: Natural Range of Motion (RoM), Rapid Entire Body Assessment (REBA), Rapid Upper Limb Assessment (RULA), and the Ovako Working Posture Analyzing System (OWAS). In addition to the finding that the use of handheld machines is associated with a high WMSDs risk level, particularly in the work element of renewing the tapping faces, this study demonstrated that RULA is a postural-based risk level instrument with the highest level of sensitivity when being used to assess risk levels in tapping activities involving a great deal of upper limb movements. Despite the widespread use of OWAS for emergency corrective action, this study demonstrates that OWAS has a very low level of sensitivity. For this reason, we stress the importance of using a wide range of instruments for risk assessment to get more accurate results.
Keywords: Musculoskeletal disorders, pine tapping, postural analysis, risk level
Downloads
Download data is not yet available.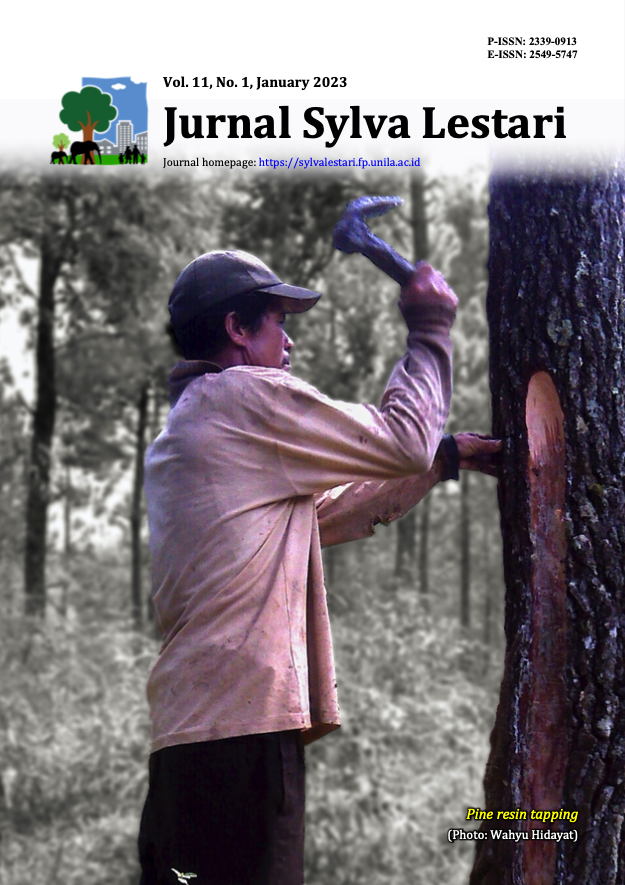 Downloads
How to Cite
Yovi, E. Y., & Wilantara, B. (2023). Does Motor Manual Pine Oleoresin Tapping Bring Work-Related Musculoskeletal Disorders Risk to the Tappers? (RoM, REBA, RULA, and OWAS Based Postural Analysis). Jurnal Sylva Lestari, 11(1), 123–135. https://doi.org/10.23960/jsl.v11i1.664
Statistics
Abstract views: 56 times
PDF downloaded: 37 times
License
Copyright (c) 2023 Efi Yuliati Yovi, Bayu Wilantara
This work is licensed under a Creative Commons Attribution-NonCommercial 4.0 International License.
Authors retain copyright and grant the journal right of first publication with the work simultaneously licensed under a Creative Commons Attribution-NonCommercial 4.0 Licence that allows others to share the work with an acknowledgement of the work's authorship and initial publication in this journal.
Authors are able to enter into separate, additional contractual arrangements for the non-exclusive distribution of the journal's published version of the work (e.g., post it to an institutional repository or publish it in a book), with an acknowledgement of its initial publication in this journal.
Authors are permitted and encouraged to post their work online (e.g., in institutional repositories or on their website) prior to and during the submission process, as it can lead to productive exchanges, as well as earlier and greater citation of published work (See The Effect of Open Access).