Synthesis and Characterization of Poly(hydroxy)urethane from Polyols for Beech (Fagus sylvatica) Wood Impregnation
Abstract
A non-isocyanate route of polyurethane synthesis based on polyol (xylitol, sorbitol, glycerol, and PG3), alkyl carbonate (DMC and DEC), and diamine (HMDA, EDA, and DETA) was conducted for wood impregnation through in-site polymerization. The structure and mass average molecular weight (Mw) of the polyurethanes were analyzed using FTIR, NMR, and SEC. According to the results, polyurethane synthesis by a two-pot method in water brought cyclic carbonate degradation. The distribution of Mw of the polyurethanes showed that the most satisfying polymer (4380 g/mol) was prepared without solvent. Polyurethanes synthesized in methanol have a higher Mw than that in distilled water. In the same solvent, the use of HMDA resulted in a polymer with higher Mw than that of EDA. One-step wood impregnation in a solvent gave unsatisfactory WPG (12.59–19.71%) and LC (50.36–62.80%). However, one-step impregnation without solvent gave a higher WPG (78.39–87.63%) and a lower LC (19.11–21.25%). It is not feasible to be applied industrially. The two-step impregnation gave WPG (14.89-30.73%) and LC (42.22–56.52%). Wood impregnation using methanol or ethanol as the solvent was more recommended than using an aqueous solution. However, the resistance against leaching needs improvement.
Keywords: Alkyl carbonate, diamine, polyol, polyurethane, wood impregnation
Downloads
Download data is not yet available.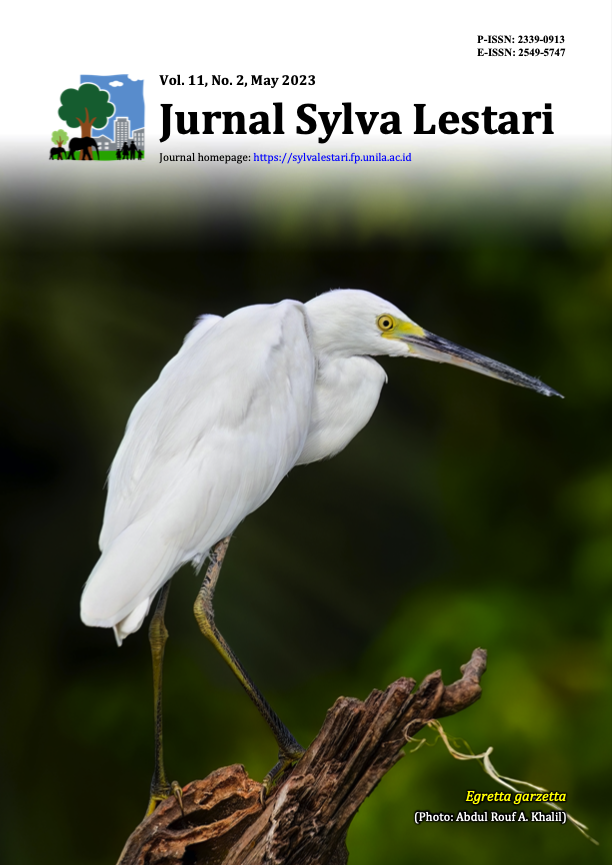 Downloads
How to Cite
Sitanggang, V. J., Wistara, N. J., & Gérardin, P. (2023). Synthesis and Characterization of Poly(hydroxy)urethane from Polyols for Beech (Fagus sylvatica) Wood Impregnation . Jurnal Sylva Lestari, 11(2), 218–235. https://doi.org/10.23960/jsl.v11i2.701
Statistics
Abstract views: 180 times
PDF downloaded: 149 times
License
Copyright (c) 2023 Vera Junita Sitanggang, Nyoman Jaya Wistara, Philippe Gérardin
This work is licensed under a Creative Commons Attribution-NonCommercial 4.0 International License.
Authors retain copyright and grant the journal right of first publication with the work simultaneously licensed under a Creative Commons Attribution-NonCommercial 4.0 Licence that allows others to share the work with an acknowledgement of the work's authorship and initial publication in this journal.
Authors are able to enter into separate, additional contractual arrangements for the non-exclusive distribution of the journal's published version of the work (e.g., post it to an institutional repository or publish it in a book), with an acknowledgement of its initial publication in this journal.
Authors are permitted and encouraged to post their work online (e.g., in institutional repositories or on their website) prior to and during the submission process, as it can lead to productive exchanges, as well as earlier and greater citation of published work (See The Effect of Open Access).