Faktor-Faktor yang Mempengaruhi Kebakaran Hutan di Indonesia dan Implikasi Kebijakannya
Abstract
Forest fire is one of the crucial environmental and forestry issues as well as local and global concern. The longstanding efforts have been conducted to overcome this problem, but the success was relatively low. This study aims to determine the factors that affect the extent of forest and peat fires in Indonesia. The analysis of forest fires was carried out on three major islands, i.e. Sumatra, Kalimantan and Papua using time series data from 1969 to 2012. The data were analyzed using econometric models. The results indicated that the factors affecting the forest and peat fires included the price of logs, export prices of CPO, el nino, budget of the Ministry of Forestry, the economic crisis and the number of hotspots. The identified determinant which has a major impact on the extent of forest and peat fires is the number of hotspots. Controlling the number of hotspots significantly reduced the magnitude of forest fires. For that reason, there is a need for a paradigm shift in the control of forest fires from forest fire fighting activities into preventive effort by reducing the number or preventing the occurrence of hotspots as an early indication of a forest fire.
Keywords: forest fires, hotspots, prevention
Downloads
Download data is not yet available.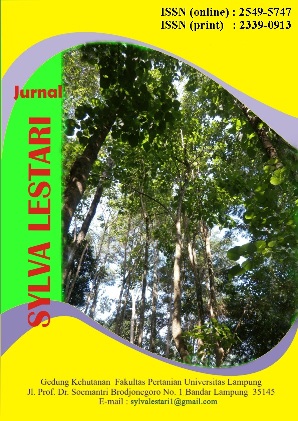 Downloads
How to Cite
Cahyono, S. A., Warsito, S. P., Andayani, W., & Darwanto, D. H. (2015). Faktor-Faktor yang Mempengaruhi Kebakaran Hutan di Indonesia dan Implikasi Kebijakannya. Jurnal Sylva Lestari, 3(1), 103–112. https://doi.org/10.23960/jsl13103-112
Statistics
Abstract views: 895 times
PDF downloaded: 581 times
License
This work is licensed under a Creative Commons Attribution-NonCommercial 4.0 International License.
Authors retain copyright and grant the journal right of first publication with the work simultaneously licensed under a Creative Commons Attribution-NonCommercial 4.0 Licence that allows others to share the work with an acknowledgement of the work's authorship and initial publication in this journal.
Authors are able to enter into separate, additional contractual arrangements for the non-exclusive distribution of the journal's published version of the work (e.g., post it to an institutional repository or publish it in a book), with an acknowledgement of its initial publication in this journal.
Authors are permitted and encouraged to post their work online (e.g., in institutional repositories or on their website) prior to and during the submission process, as it can lead to productive exchanges, as well as earlier and greater citation of published work (See The Effect of Open Access).