Analisis Finansial Pola Tanam Agroforestri di Desa Pesawaran Indah Kecamatan Padang Cermin Kabupaten Pesawaran Provinsi Lampung
Abstract
Agroforestry in Indonesian language simply means as planting trees on agricultural land. Land's management with sustainable agroforestry systems expected to be able improve field productivity. It has needed to do financial analysis for agroforestry cropping patterns. It based on some of dominant plant species in agroforestry cropping patterns. This study conducted in the Pesawaran Indah Village of Padang Cermin Subdistrict on Pesawaran District in March-May 2012. The study aims to determine a profitable agroforestry cropping patterns based on financial analysis. Sampling used by purposive sampling technique. Financial analysis of agroforestry cropping pattern used the NPV, BCR and IRR with feasibility age of 20 years and an interest rate of 12%.The results showed that there are 9 agroforestry cropping patterns applied. Analysis showed that agroforestry cropping patterns is financially viable to be applied. Among 9 cropping pattern, pattern VI which is combination of Cocoa, Coconut and Banana has the highest profit with NPV is Rp 71.392.802,34,-, BCR of 7,39 and an IRR of 96%.
Key words : agroforestry, financial analysis, pattern
Downloads
Download data is not yet available.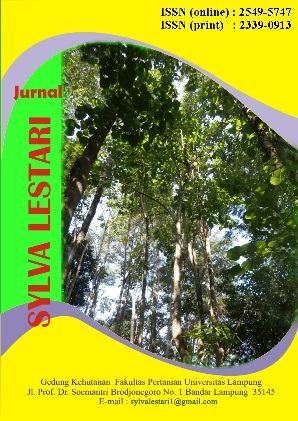 Downloads
How to Cite
Nadeak, N., Qurniati, R., & Hidayat, W. (2014). Analisis Finansial Pola Tanam Agroforestri di Desa Pesawaran Indah Kecamatan Padang Cermin Kabupaten Pesawaran Provinsi Lampung. Jurnal Sylva Lestari, 1(1), 65–74. https://doi.org/10.23960/jsl1165-74
Statistics
Abstract views: 1894 times
PDF downloaded: 2186 times
License
This work is licensed under a Creative Commons Attribution-NonCommercial 4.0 International License.
Authors retain copyright and grant the journal right of first publication with the work simultaneously licensed under a Creative Commons Attribution-NonCommercial 4.0 Licence that allows others to share the work with an acknowledgement of the work's authorship and initial publication in this journal.
Authors are able to enter into separate, additional contractual arrangements for the non-exclusive distribution of the journal's published version of the work (e.g., post it to an institutional repository or publish it in a book), with an acknowledgement of its initial publication in this journal.
Authors are permitted and encouraged to post their work online (e.g., in institutional repositories or on their website) prior to and during the submission process, as it can lead to productive exchanges, as well as earlier and greater citation of published work (See The Effect of Open Access).