Changes in Chemical Composition of Betung Bamboo (Dendrocalamus asper) after Alkali Immersion Treatment under Various Immersion Times
Abstract
This research aimed to analyze the change in chemical composition of the betung bamboo (Dendrocalamus asper) strands after alkali immersion treatment under various immersion times. The bamboo culms were converted into strands with the target length, width, and thickness of 70, 25, and 0.5 mm, respectively. Strands were alkali immersion-treated with 1% NaOH solution for 1, 2, and 3 h. Preparation of powder for chemical component analysis refers to the Technical Association of the Pulp and Paper Industry (TAPPI) standard T 264 cm-07 regarding the preparation of wood test samples for chemical analysis. Structural and non-structural bamboo strand chemical components such as holocellulose, alpha-cellulose, hemicellulose, klason lignin, and extractives were analyzed. The results showed that alkali immersion treatment decreased the hemicellulose content from 21.55% before treatment to 20.30% after 3 h immersion. Thus, it changed the holocellulose and alpha-cellulose composition. Alkali immersion treatment also changed the extractive substances dissolved in cold water, hot water, 1% NaOH, and ethanol-benzene solution. The decrease in hemicellulose, molecular weight lignin, and extractive substances would be beneficial for bamboo-oriented strand board manufacture to improve strand adhesion, dimensional stability, mechanical properties, and durability against biological agents attack.
Keywords: alkali immersion times, alkali immersion treatment, bamboo, chemical components, pre-treatment
Downloads
Download data is not yet available.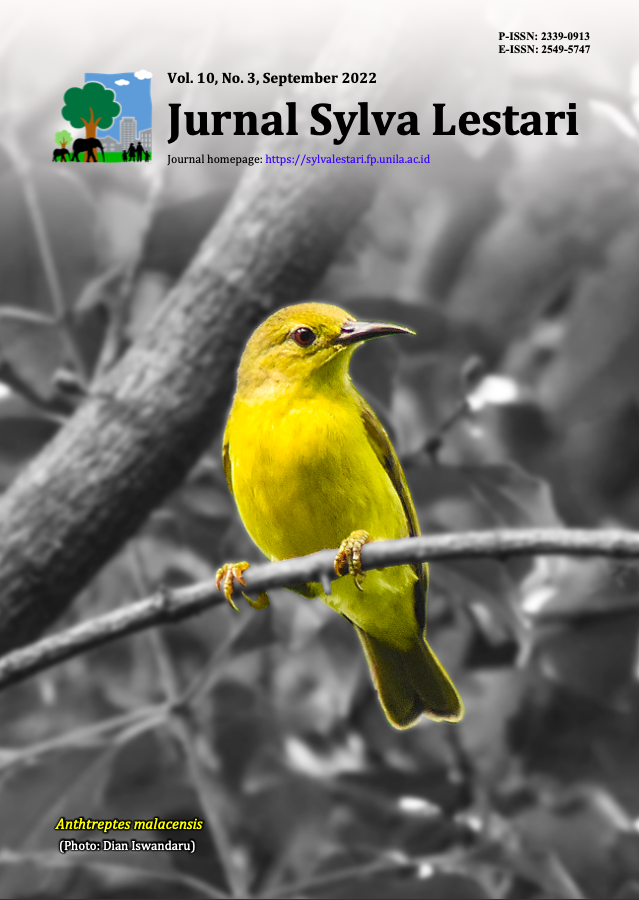 Downloads
How to Cite
Murda, R. A., Maulana, S., Fatrawana, A., Mangurai, S. U. N. M., Muhamad, S., Hidayat, W., & Bindar, Y. (2022). Changes in Chemical Composition of Betung Bamboo (Dendrocalamus asper) after Alkali Immersion Treatment under Various Immersion Times. Jurnal Sylva Lestari, 10(3), 358–371. https://doi.org/10.23960/jsl.v10i3.599
Statistics
Abstract views: 168 times
PDF downloaded: 103 times
License
Copyright (c) 2022 Rio Ardiansyah Murda, Sena Maulana, Adesna Fatrawana, Silvia Uthari Nuzaverra Mayang Mangurai, Soleh Muhamad, Wahyu Hidayat, Yazid Bindar
This work is licensed under a Creative Commons Attribution-NonCommercial 4.0 International License.
Authors retain copyright and grant the journal right of first publication with the work simultaneously licensed under a Creative Commons Attribution-NonCommercial 4.0 Licence that allows others to share the work with an acknowledgement of the work's authorship and initial publication in this journal.
Authors are able to enter into separate, additional contractual arrangements for the non-exclusive distribution of the journal's published version of the work (e.g., post it to an institutional repository or publish it in a book), with an acknowledgement of its initial publication in this journal.
Authors are permitted and encouraged to post their work online (e.g., in institutional repositories or on their website) prior to and during the submission process, as it can lead to productive exchanges, as well as earlier and greater citation of published work (See The Effect of Open Access).